Product feature

What is Ninja ROBO?
Product developer, CEO Hideo WATANABE
Hideo WATANABE who is the former and a developer started to research to help his first grand child who was suffering by mites allergy.
We have been researching for many years and have continued to varify countless captures as we had forcused on a relationship between mites and dryness. As a result, we succeeded in developing a product that attracts mites and dries them by a discover a scent (attractant) which mites love. To go to NIKKAKU LABORATORY official site
No more other than NIKKAKU LABORATORY
three uniqe skills
Only NIKKAKU LABORATORY has
a catching skill which makes mites dry.
① Capture a large amount of mites
The inside of the product is filled with the attractant that mites love, and house dust mites for example Cheyletidae are attracted to the scent, and they dive into the mat. Ninja ROBO also captures mites between curtains and floor or inside bedding that are not well cleaned.
【The effect of Ninja ROBO】
A unique attractant that strongly charm mites
10x speed
② A weakpoint of mites "destroy using DRYNESS"
Mites contain water 80% inside the body. Hygroscopic ceramic in the attractant removes water in the body by sticking their skin and can destroy certainly.
【The effect of Ninja ROBO】
A unique attractant that get rid of gathered mites
100x speed 200x speed 300x speed
③ Never release destroyed mites
Dead bodies of mites in our product are only necessary to throw away into a rubbish bin.
※ Effective period is three months after opening.
Never release destroyed mites
① Confine dead bodies and droppings in the piled non-woven mat.
② Never scatter allergens as it becomes burnable garbage.
Prooven safety by tests domestic and international
It is extremely safe by 0% of chemical incecticide
A name of test
Detail
Result
Acute oral toxicity test


(Japan Food Research Laboratories)

It is a test to examine the damage to health by eating.High numerical value suggests more safety and that toxicity is low.


Ex) LD50-4000 mg / kg :Salt

More than LD50 = 5,000 mg / kg


(No. 14066020001-01)

Closed patch test


(Life Science Laboratories, LTD.)

It is a test to check whether a rush occurs. The test substance is applied to skin and the reaction after 24 hours is examined.
Non-stimulative


(No. 02-XⅡ-1004)

Mutagenicity test, Ames test


(SafePharm Laboratories Ltd. →Harlan Sprague Dawley, Inc.)

It is a test to investigate genetic toxicity and carcinogenicity.
No problem


(No. 1538-002)
It has already been proven by the third party organization.
100% destroy mites in the product!
Captured mites have been exterminated and NEVER multiply!
Takumi TANAKA, the CEO, Viable Cooporation
※ In accordance with a strict testing method for efficacy against mites of textiles (JIS L 1920), three times repeated tests were proceeded.
Product lineup

Ideal for individual space in a room
Where to set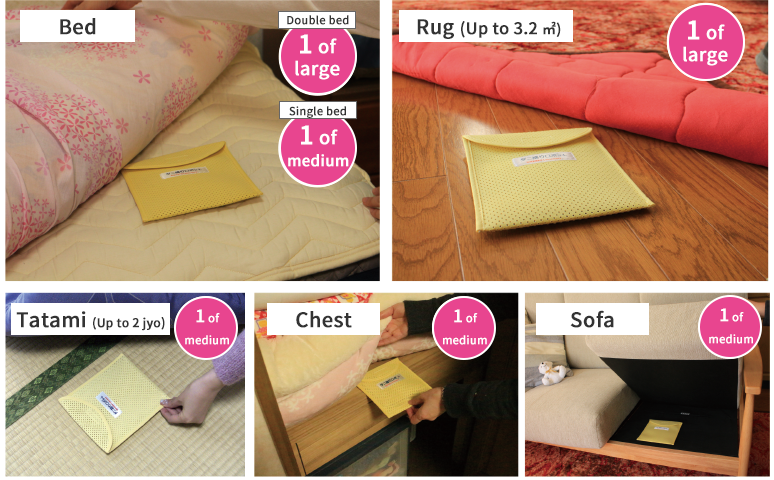 How to use
Take out a attractant mat from a package.

Set the mat in a holder.

Put a sticker on the holder after filling opening date.

Just place Ninja ROBO for three months!